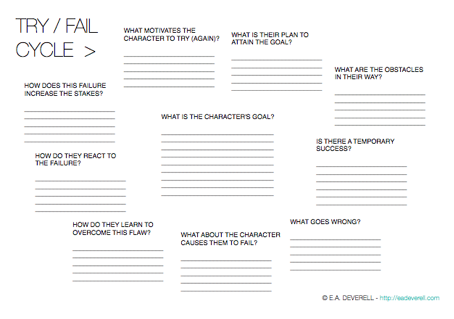 Writing Worksheet – Try/Fail Cycle
In honour of NaNoWriMo, this month's worksheets will have one purpose: to increase your word count by hook or by book. A try/fail cycle is another wonderful writerly device that confounds the character's path from A to B by making them go in circles for a while, like an airplane waiting to land at a busy airport, or a bear trailing a woozle.
Causing your character to try and fail several times before they reach their goal is a good idea because:
It shows that your character has a persevering nature.
It shows that your character's goal is worth striving for.
It gives the reader more opportunity to get to know the character.
The success appears sweeter when it's finally attained.
It's an opportunity to show the consequences of failure.
It's helpful in drawing the 'character arc' whereby your character is transformed out of their former selves.
If you tap their full developmental potential, one cycle can earn you upwards of 5000 words!
Keep trying & failing; for your character's sake!
---
Don't miss any future writing worksheets!