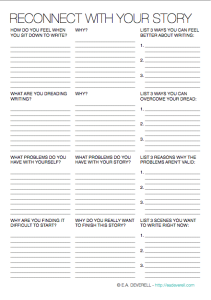 Writing Worksheet – Reconnect with your Story (PDF)
Your harddrive is littered with languishing stories; I know it is! You believed in those stories in the beginning and built them up word by word, suffering when you had to run errands or go to work or even sleep. What happened? Don't doubt that starting spark. This worksheet will help you resurrect the love and enthusiasm.
"You can't have art without resistance in the materials." – William Morris
---
I post worksheets every Wednesday!