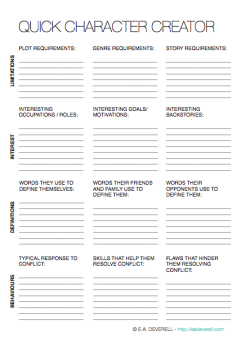 Creative Writing Worksheet – Quick Character Creator (PDF)
The fact is, you can fill in every 100-item questionnaire about character creation in exhaustive detail and still end up with a character who is unsuitable for the story you're trying to tell, who isn't interesting, and who doesn't feel real.
Here's what Aaron Sorkin (creator of The West Wing and The Newsroom) has to say on the subject in his masterclass*:
"I wouldn't take out a yellow legal pad and pen and start writing down character traits. Let's see… he likes baseball, and he likes creamy peanut butter but not chunky peanut butter, and he likes this, and he doesn't like that, and he parts his hair on the left side, and that kind of thing. I don't think that any of that is going to come in handy. I think you're doing it because you feel like you're supposed to do it. I think you're doing it because you feel the more human character traits you write down on this legal pad, the more human the character is going to be. What's going to happen is, you're going to have a scene where a guy or a girl needs to convince their parents to loan them money for something. And you've got this yellow legal pad next to you and you're figuring out how to work in creamy peanut butter into the scene because these are the things that are going to make your character more human. Forget that."
The Quick Character Creator aims to help you generate an interesting character who speaks and acts in keeping with your story, without brainstorming lots of unnecessary detail.
Character Creation
If you would like to learn a quick, simple, systematic, and holistic way to create your cast on one page, I teach my unique method in the online course, How to Be the Heroine of Your Own Story. Click here to learn more and to enrol.
* This is an affiliate link.