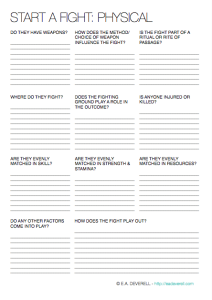 Creative Writing Worksheet – Fighting (PDF)
Conflict is great for the plot in general, but nothing's better than a good fight scene to increase tension and provide the perfect opportunity for a try/fail cycle. This worksheet will help you brainstorm some ideas for your fight scene, whether it's verbal, physical or something in between.
> Find 50+ more worksheets in the Writing Worksheet Index.