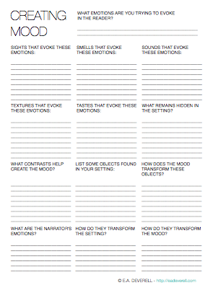 Writing Worksheet – Creating Mood (PDF)
I think of mood as being the expression of a setting's personality. Depending on the narration style, mood will often be created through a character's experiences with the setting, but it can also remain unmediated. Some of the moodiest creations have deep layers of emotion and richly-detailed and slightly sinister backdrops; Gormenghast and House of Leaves are two examples that occur to me in which the setting is so strong that it influences the whole story. Download this worksheet to help you brainstorm your own atmosphere!
If you find these worksheets helpful or would like to suggest improvements, please let me know!
---
Don't miss any future writing worksheets!