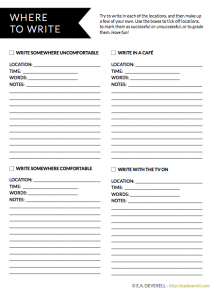 Creative Writer Worksheet – Where to Write (PDF)
This week's worksheet requires you to do some experimenting and to log your results. The aim isn't so much to discover your ideal working conditions as to try new locations and conditions (5 pages of them, in fact). Do you really need everything to be perfect – perfect silence, perfect posture, perfect beverage, perfect mindset – or can you manage to write perfectly well in imperfect situations? Let's find out!
P.S. You could also view this as your own bucket list or challenge! Can you complete all of the locations?
---
Find the complete list of worksheets in the archive.