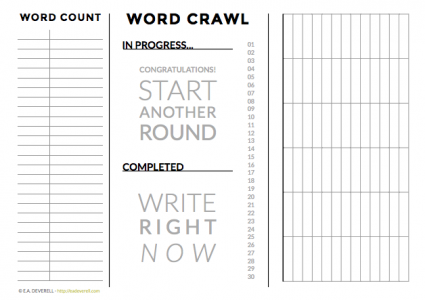 Writing Journal Worksheet – Word Crawl (PDF)
Word crawls are one of my favourite writing challenges, especially during NaNoWriMo. They're fun, motivating, and help you rack up an amazing word count. This writing worksheet is designed to help you keep track of your word crawls using sticky notes!
How to Use This Worksheet
You can use the 2nd and 3rd pages of this worksheet to print your own custom, 3″x3″ (7.6cm) sticky notes.
Print the 1st and 2nd pages, making sure you've set the page scale to 100%.
Then arrange your sticky notes in the boxes in the 2nd page, and replace the page in your printer tray. Make sure the page feeds in with the sticky notes sticky side first, and that none of the notes are curling up. I can't be responsible if you jam your printer!
Once you've loaded the page back into your printer tray, print the 3rd page.
Invent your own word crawl, or find one from your favourite fandom, and fill in the blanks in the sticky notes accordingly. You may need a few copies of the sticky notes, depending on how many steps your word crawl includes.
Stack your sticky notes in reverse order under the "in progress" header on the 1st page. The step that you're currently writing should be on top.
When you finish a step of your word crawl, move the sticky note to the "completed" pile.
When you finish all of the steps, start again, or rearrange for a brand new word crawl.
Watch your word count crawl up!
P.S. If you enjoy writing games, you should also try Writer's Block.