Writing a novel may be hard, but finishing it is much harder!
novelling take-aways & suggestions
1. Make sure you LOVE your idea. Especially if you're writing a series.
The germ for a series needs to be strong enough to set you alight with excitement; it needs to be something that you feel like you could spend your whole life exploring. That's how I feel about reinterpreting the Victorians in my steampunk series, Flora Victoriana. Way back when I first had the idea, I started out with a list of my favourite things (I have a writing worksheet for that!) many of which will work their way into the series:
What if you realise that you don't love your idea as much as you did in the beginning? I have two suggestions for you:
Meg Cabot gave this advice way back in a NaNoWriMo pep talk, and I've quoted it before: "Think about what made you fall in love with your work-in-progress in the first place."
Is it really the idea or is it you?
Combine your once-beloved idea with something else you love. For example:
industrial revolution + plants = love
or:
roses + tarot + industrial revolution = something fabulous
THINKING SPACE
1. What's the core concept that you're passionate about?
2. How can you combine your favourite things to create fireworks in your brain?
2. Don't forget to refer to your mindmaps, cluster diagrams and lists.
I find mindmaps or cluster diagrams very helpful for making connections, generating new ideas and getting a sense of the big picture. For my first novella, I already had my genre mindmaps, but I also "exploded" my two main concepts: machines and plants.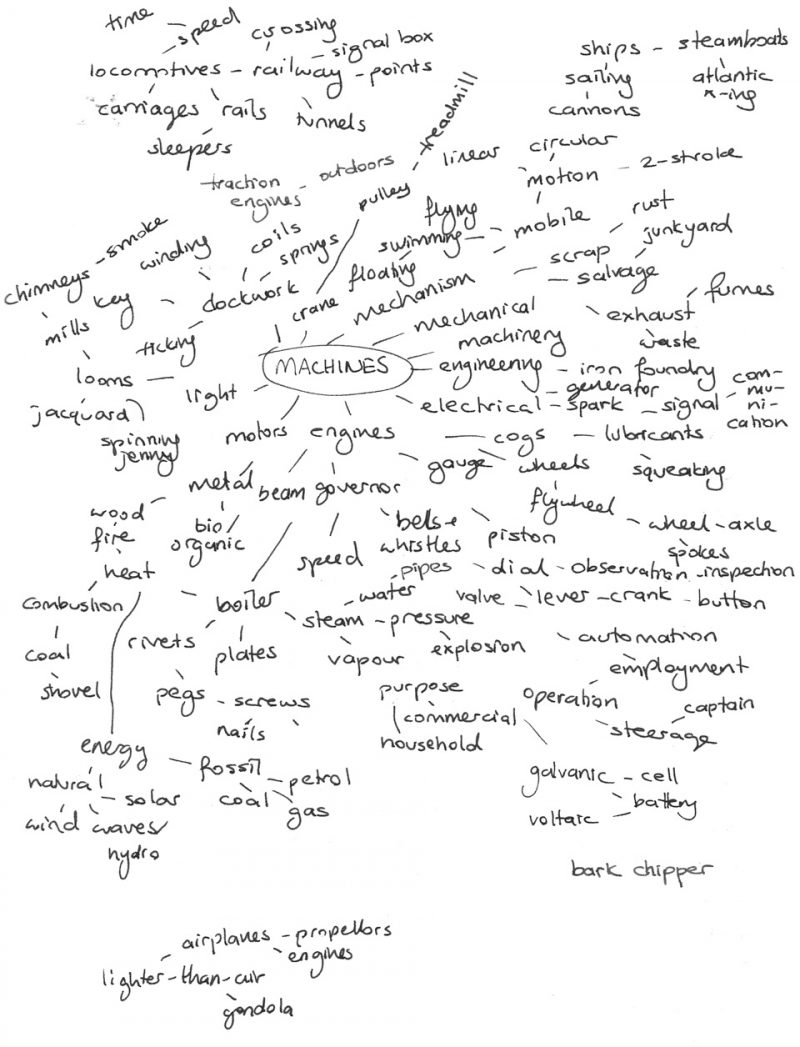 THINKING SPACE
Think your themes through thoroughly and don't forget to refer back to your mindmaps often!
3. Make sure you have the right characters for the story you're telling.
If you're struggling with your story, characters are often the culprits! They bring their own agendas, and if they're not in line with yours, they can derail the story.  Sometimes they can even quench that initial spark that excited you because they simply aren't right for this task. You don't have to kill them; just send them to the bench until you can use them in another story (did I get my sports terminology right?).
This is why I now suggest that the first step my students take in my character creation course is to decide what they need from the character. If the character came first, then by all means base the rest of the story around them, but if you already have a story idea in place, then make sure you mould the character to suit it. Don't just create a character because you think of a cool character quirk, or because you need someone relatable, or because you haven't ticked all of your genre's stock character boxes yet.
Ask: "what do I need this character to do?"
… and use your answer to generate or adapt your character. Try it, even if you're almost at the end of your novel or novella!
If you're struggling with character motivation, I have a worksheet for that!
THINKING SPACE
1. Do you have the right characters for the story you're trying to tell?
4. Take your time (shock, horror!)
Each draft takes twice as long as the previous one. #amwriting #writing #amediting

— ✍ Eva Deverell (@EvaDeverell) February 7, 2015
My first novella took me over a year to finish and publish. At a meagre 35,000 words, and considering all of the time and attention I put into it, it ought to be a masterpiece, but it isn't. It's just something I'm very very proud of having accomplished.
I love 30-day solutions just as much as anyone, and I truly believe that there are great storytellers who can write, edit and publish excellent novellas in that time, but getting it done is more important than how long it took to do so. I just wanted to tell anyone else who's struggling, as I did, to finish the darn thing, that a lot more time is spent on subconscious learning than we realise. Keep your writing journal and read it frequently; you'll see you're making progress, slowly but surely!
THINKING SPACE
Don't feel discouraged if you're taking longer to write your novel/novella than you expected.
A lot of time goes into activities that don't produce visible results: thinking, reading, journalling and writing other things all contribute towards your novel in their own ways. And you can always blog them.
5. Use a plot formula.
No word count today because I #amediting. &&& my own plotting method totally saved me! >> http://t.co/gxSjTeWUu1 #writing #steampunk

— ✍ Eva Deverell (@EvaDeverell) February 7, 2015
I wanted to share this page of notes from a very early iteration of a FV novella. It has elements of The Floral Underworld, but I've since split some of it into another novella provisionally titled, The Flora Affair. Despite the confusion I was fascinated to discover this piece of failed plotting because it showed me just how clueless I was.

I probably had a little more idea about my characters than this sketch describes, but it's still a pitiful attempt that thankfully and unsurprisingly floundered. A plot isn't simply a string of events; it's a strategy for bringing your character from the beginning of the story to the end. While "cool bits" are a good starting-point, they're not much use without a solid framework, and there's absolutely no use in plotting until you have a clear idea of why you want to tell a story.
Developing The One Page Novel was essential in really solidifying my ideas about story. It provided me with diagnostics that helped me even more in the editing process, when I determined which scenes needed more power. A novella is a spare form but it's apt to become flimsy. I hope I've avoided this, but of course, you may disagree!
6. Find the right title.
(That's why I created a worksheet to help you brainstorm them!) The Floral Underworld was originally called, The Blue Poppy, which I liked well enough. It suggested the idea of synthesis (blue being a rare colour among natural plants) and Novalis's blue flower, while the poppy is central to the novella, both as an object and for its association with sleep and death. Yet it isn't as evocative as The Floral Underworld, which not only refers to the criminal organisation, Flora, but also speaks to the themes of darkness, and death (or katabasis). Much of the novella takes place below ground-level, with brief glimpses of light, which sets up a contrast with the next novella.
THINKING SPACE
Don't settle for your first title.
Think of the series as a whole.
Name your chapters!
7. Keep a writing journal.
I often begin my writing session with a quick "download" of what's on my mind, just as I do in our write-alongs. This helps me quickly remember where I was on a project, and rehearse what I need to do during that session, as well as providing me with an interesting record.
Saturday, 22nd March. Spring feels much the same everywhere and everywhen, I think. I started rewriting TFU and am pleased with it so far (not very far). Losing oneself in a world of one's own making is a great privilege.

The word, "lemniscate" is stuck in my head.
Saturday, 19 April. I've almost finished rewriting TFU and I'm so much happier with it. I like Pru better now that she is a serious, self-made character.
Wednesday, 30 April. Working on 'Larkin About' now, but I think it needs a sensible name. I'm hoping it'll help me spot any holes/things I need to mention in TFU. I'm worried that I enjoy writing Cori more. He's not a more compelling character, exactly, but more fun and easier. Maybe because he's easy to get along with, while Pru is more reserved? Do my characters' personalities effect [sic] how I interact with them? Interesting. I read a bit about cognitive poetics the other day. Is it the new "in" lit theory I wonder?
8. Find a(nother) place to write.
Off to the library on this cold, sunny Saturday morning. :) #amwriting #writerlife #writing

— ✍ Eva Deverell (@EvaDeverell) February 21, 2015
The library has been my mainstay. That and the classical music station. Nice fountain pens help too.
9. Don't let the writing/editing imbalance get you down.
Another 3000 words in the library. Writing is so much easier than editing! :) #amwriting #writerslife #writing #write

— ✍ Eva Deverell (@EvaDeverell) February 18, 2015
The trouble I have with editing is that if something shifts considerably in the story, it becomes necessary to start editing again right from the beginning, to make sure you haven't introduced any new problems. I'm sure I've perpetrated more typos during editing than I have during writing! The process becomes a chore of chipping away at inconsistencies or missing links day by day and it doesn't resemble writing at all. Yet I think it's this final persistence that really makes a writer. Writing is intoxicating; editing is sobering!
I also found, despite my reservations about wasting paper, that having a printed MS was very helpful. You look like a "proper" writer and you get to use coloured pens!
THINKING SPACE
As much as possible, edit in waves. Avoid polishing the first half of your story over and over again!
Use versioning. Scrivener makes this incredibly easy – just take a snapshot before each wave of edits.
10. Schedule research days.
Research day today! Topics include: ferns, the Congo, opium, breadfruit, floriography & opera. #amwriting #steampunk

— ✍ Eva Deverell (@EvaDeverell) February 27, 2015
My method is generally to leave blanks whenever I come across a point that needs to be researched. Like this: ________. During editing I turn each of those blanks into a Scrivener comment and if need be, make a few notes about what I need to look up. This makes it easier to see at a glance how much work I have to do on my "research days".
While research is often a great way to spark ideas, I tend to use it sparingly. I find it far more fruitful to challenge myself to come up with a novel solution than to be irritated by the trivialities of historical accuracy. Alternate universes FTW!
THINKING SPACE
Separate out your writing, editing and research time.
Develop a system for dealing with research efficiently.
11. Write with others!
I'm so addicted to the #amwriting tag! I love reading about your trials & triumphs! We're in this together! :) #writing #rockon

— ✍ Eva Deverell (@EvaDeverell) February 9, 2015
If you have writing buddies, challenge them to a word war.▼ If you don't have a writing buddy, catch a #wordsprint on Twitter, join one of my write-alongs, live sprint on MyWriteClub, or find word warriors at WordWar.io.
The #amwriting hashtag on Twitter, as well as the public writing, write-ins and sprints that I've held over the past couple of months have given me much-needed connection with other writers. It's always a comfort to know that you aren't alone in your struggles, and I feel a wave of affection for all of you every time I favourite a tweet!
▼ That's when you start writing at the same time and keep writing for a specified time (usually 30 minutes or less), and then compare word counts.
THINKING SPACE
Take a break and tweet that you're #amwriting. Feel the love.
12. Steam power
Time for a cup of tea. Steam power! :) #reading #amreading #steampunk

— ✍ Eva Deverell (@EvaDeverell) February 22, 2015
Steam power. Team power. Tea power.
THINKING SPACE
Have a cuppa!
---
Read Now
The Floral Underworld, the first novella of my steampunk series, Flora Victoriana is now available to read!