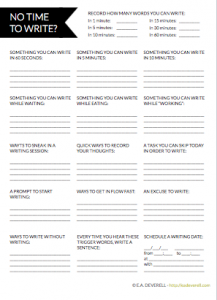 Creative Writer Worksheet – No Time to Write (PDF)
I know you lead a busy life. But if you think the answer to writing more lies in having more free time, you're fooling yourself. The more time you have to write, the more time you'll take.
You can get a lot of writing done in short bursts.
And you can write really well.
And you can have a lot of fun doing it.
So if you have no time to write, fill in this worksheet instead!