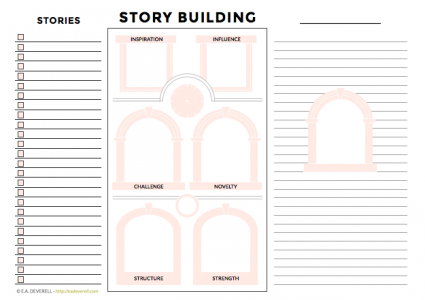 I've long wanted to design a Tarot spread for writers, and here it is!
What windows do the cards open up for you?
Click here to download this worksheet (PDF)
Here are some ideas for your work with this spread…
The Foundation

Structure

– What's the plan & pattern? What are the cornerstones & keystones?

Strength

– What are the story's strengths? What are your strengths? What gives the structure stability & substance?

The Next Level

Challenge

– What does the story challenge? What is challenging for you? How can you create more challenges to raise your standards?

Novelty

– What's new & exciting about the story? What new experiences are you seeking?

The Higher Purpose

Inspiration

– What's inspiring about this story? Where can you find greater inspiration?

Influence

– How can this story influence more people more? How can you develop your own influence? What influences can you bring to bear?
Although I designed this worksheet as a Tarot spread, you don't need to use it with cards – you can use the storeys for brainstorming your story, or worldbuilding, or opening other exploratory windows.
P.S. If you enjoy using the Tarot for writing, you may also be interested in learning about The Fool's Journey.