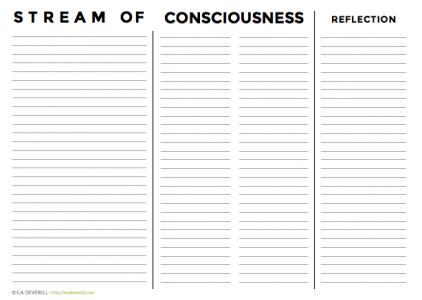 Writing Journal Worksheet – Stream of Consciousness (PDF)
Dive into your stream of consciousness, or into that of a character. What surfaces?
Ideas
Loosen up and let the words flow.
Tap into the timbre of the character's thoughts.
Play with pace.
Try an internal monologue – maybe some question and answer?
"Odd snatches of dialogue."
Slip from one mind into another.
What lies at the confluence of the collective unconscious?
Follow word associations.
Invent words for indescribable thoughts and feelings.
One thought merges with the next.
Examples
A few examples to whet your appetite…
from Dombey and Son by Charles Dickens
… It was a fevered vision of things past and present all confounded together; of his life and journey blended into one. Of being madly hurried somewhere, whither he must go. Of old scenes starting up among the novelties through which he travelled. Of musing and brooding over what was past and distant, and seeming to take no notice of the actual objects he encountered, but with a wearisome exhausting consciousness of being bewildered by them, and having their images all crowded in his hot brain after they were gone…
from To the Lighthouse by Virginia Woolf
… She looked up — what demon possessed him, her youngest, her cherished? — and saw the room, saw the chairs, thought them fearfully shabby. Their entrails, as Andrew said the other day, were all over the floor; but then what was the point, she asked, of buying good chairs to let them spoil up here all through the winter when the house, with only one old woman to see to it, positively dripped with wet? Never mind, the rent was precisely twopence half-penny; the children loved it; it did her husband good to be three thousand, or if she must be accurate, three hundred miles from his libraries and his lectures and his disciples; and there was room for visitors. Mats, camp beds, crazy ghosts of chairs and tables whose London life of service was done — they did well enough here; and a photograph or two, and books. Books, she thought, grew of themselves. She never had time to read them. Alas! even the books that had been given her and inscribed by the hand of the poet himself: "For her whose wishes must be obeyed" . . . "The happier Helen of our days" . . . disgraceful to say, she had never read them…
From Ulysses by James Joyce
Yes because he never did a thing like that before as ask to get his breakfast in bed with a couple of eggs since the City Arms hotel when he used to be pretending to be laid up with a sick voice doing his highness to make himself interesting for that old faggot Mrs Riordan that he thought he had a great leg of and she never left us a farthing all for masses for herself and her soul greatest miser ever was actually afraid to lay out 4d for her methylated spirit telling me all her ailments she had too much old chat in her about politics and earthquakes and the end of the world let us have a bit of fun first God help the world if all the women were her sort down on bathingsuits and lownecks of course nobody wanted her to wear them I suppose she was pious because no man would look at her twice I hope Ill never be like her a wonder she didnt want us to cover our faces but she was a welleducated woman certainly and her gabby talk about Mr Riordan here and Mr Riordan there I suppose he was glad to get shut of her…
From Under Milk Wood by Dylan Thomas
… Listen. It is night in the chill, squat chapel, hymning in bonnet and brooch and bombazine black, butterfly choker and bootlace bow, coughing like nannygoats, sucking mintoes, fortywinking hallelujah; night in the four-ale, quiet as a domino; in Ocky Milkman's lofts like a mouse with gloves; in Dai Bread's bakery flying like black flour. It is to-night in Donkey Street, trotting silent, with seaweed on its hooves, along the cockled cobbles, past curtained fernpot, text and trinket, harmonium, holy dresser, watercolours done by hand, china dog and rosy tin teacaddy. It is night neddying among the snuggeries of babies…
---
NEW WORKSHEETS IN YOUR INBOX
---
Last week's worksheet: An Alternative Point of View…