What is a printable journal?
It's a journal that's designed to be printed out and assembled at home. The cover is glued to cardboard or chipboard, and the printed pages are folded in half and bound to the cover. Additional blank pages can also be added. Because they're an offshoot of scrapbooking and mini albums, these journals often incorporate interactive pockets, "tuck spots" and ephemera. Watch the flick-through video to see how the Lady Writer Journal looks when it's all assembled.
I designed this journal to help you:
– organise story notes,
– generate ideas,
– collect inspirational / motivational quotations,
– keep writing worksheets for reference,
– complete your coursework (of course!),
– track your writing projects,
– log your word count,
– plan out your writing year,
– keep a writing journal,
– & write!
But you can always use it as a diary, notebook, mini album, scrapbook, commonplace book or anything else you wish!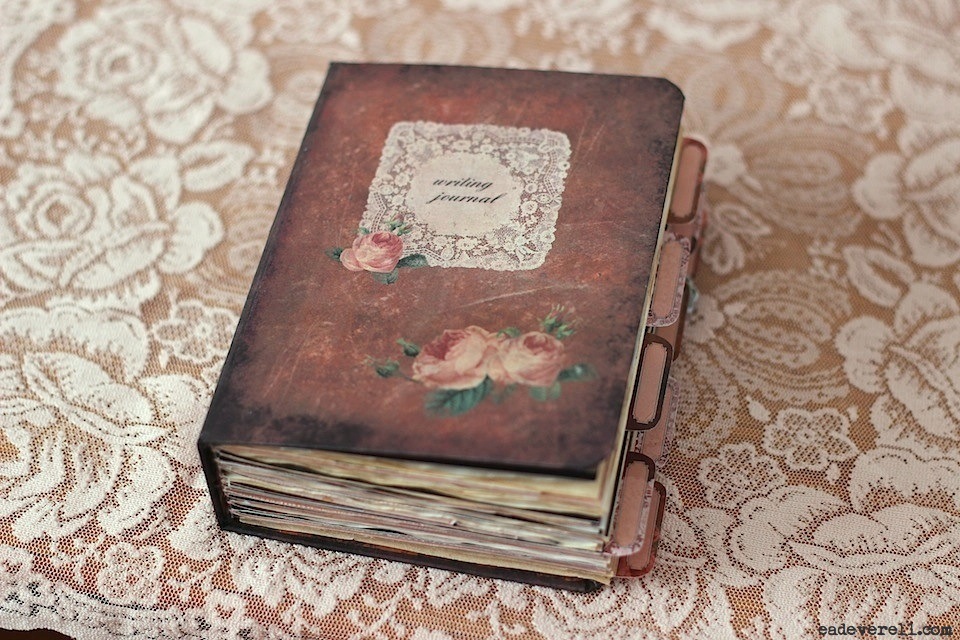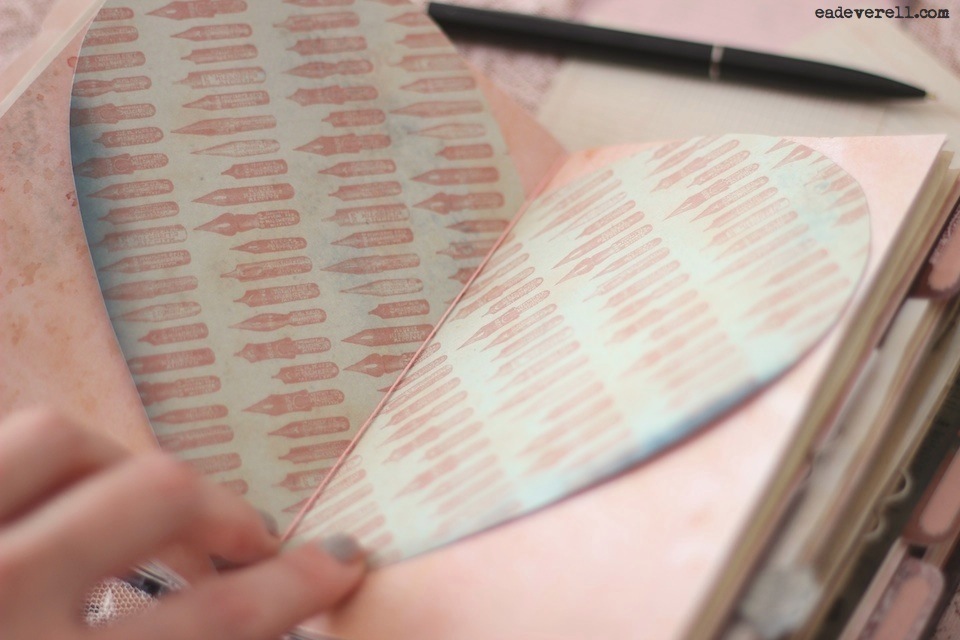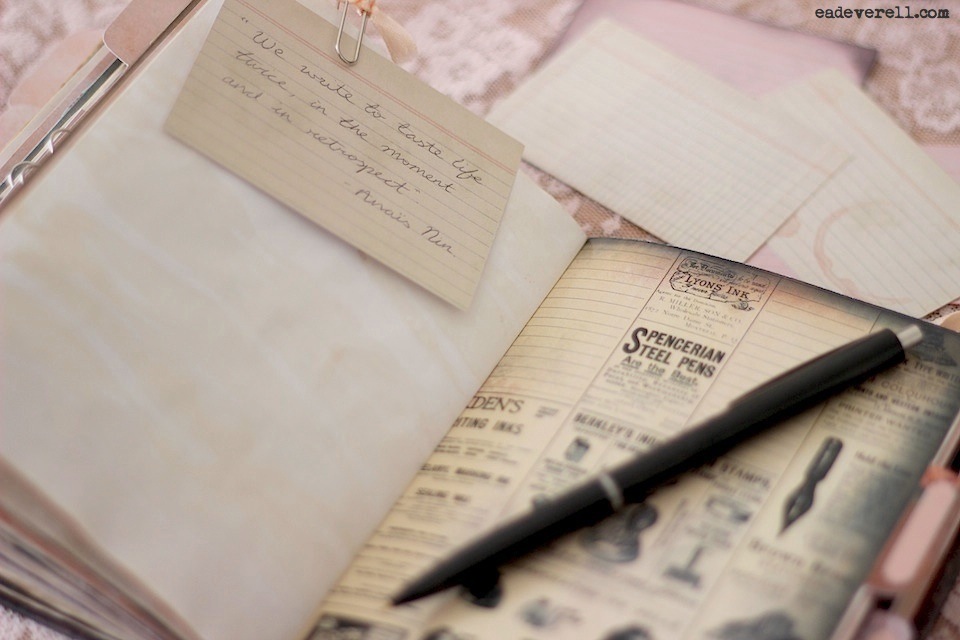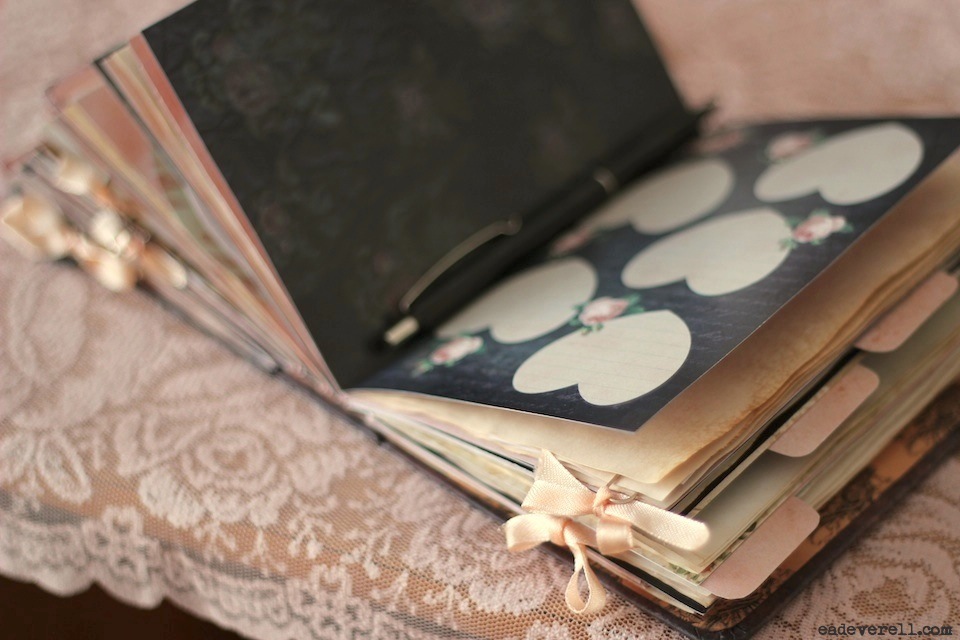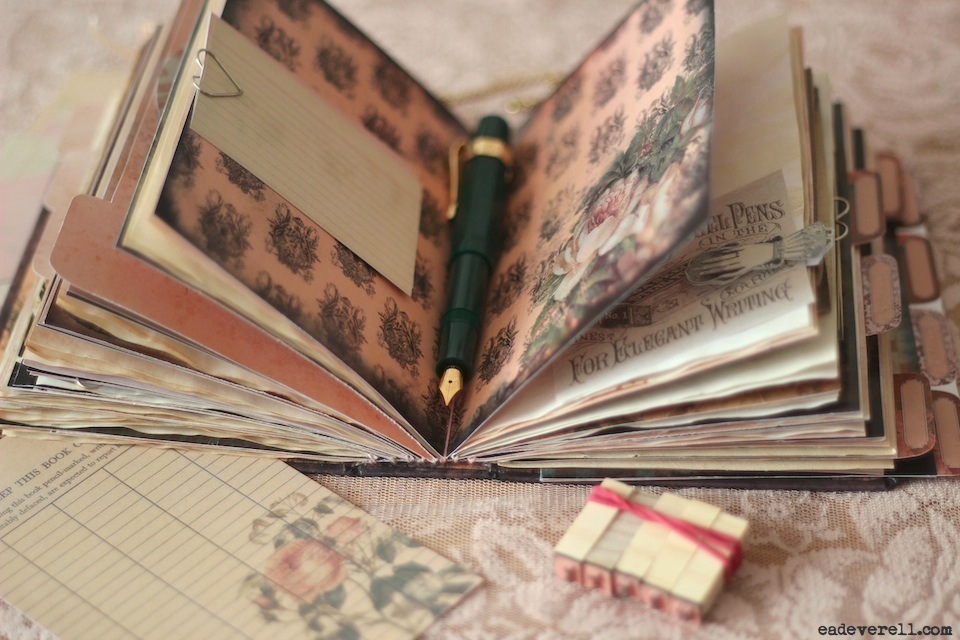 Size
The journal is designed to use A5 sheets of paper folded in half (or A4 folded into quarters). The cover itself is slightly larger: 11.2cm x 15.3cm (approx. 4 3/8in x 6 1/16in).
Filofax & Midori Traveller's Notebooks
The A4 papers can be used in the A4 Filofax, or folded in half to be used in the A5 Filofax.
The A5 pages should fit snugly (minus tabs) in the passport-size Midori Traveller's Notebook if printed at approximately 75%.
Volumes
There are currently 3 printable journalling collections. Each is made up of high-resolution JPGs that are compressed in ZIP files. They're all available for instant purchase and download on my Etsy store.
Volume I – Cover, liners, dividers & Ephemera
Includes:
Cover page (to be printed borderless A4)
2 cover liners
12 A5 dividers with tabs (these are the same designs as the papers) *
2 page liners – lined & plain
Bonus colour variations
Bonus untitled cover
4 sheets of ephemera including:
Typewriter pocket,
Library card,
Mini index cards,
Mini envelopes,
Bookplates,
& lots more.
* Each sheet has all the tabs attached, so you can place the dividers in whatever order you like, then cut off the tabs you don't need!
Volume II – Journalling & planner pages
4 sheets of 8 journalling pages:

Facing Pages
Form of Address
Bookish at Heart
Card-Carrying Writer

Year-to-view double planner page
Month-to-view fold-out planner page
2 page liners – lined & plain
Volume III – Papers
12 A4 papers:

Pick a Pink Pen
Museprint
Paper Roses
Secret Reading
A Fair Hand
Lady of Letters
Tea Total
No Cross Words
Lyre Damask
Literarily
Character Building
Atypical Typist

Bonus colour variations
Lined & plain liners
Cover Tutorial
I've prepared a PDF tutorial explaining how to put together the cover (including measurements and a template) and binding instructions.
Free Printable Title Spots & Ribbons
These title spots & ribbons can be filled in on the PDF before printing, then used as bookmarks, tuck spots or titles. I like to fold the ribbons in half and glue them around a paperclip to create a reusable title.
A Free Sample to See What It's All About
Want to make a pretty pocket like the one above to slip into your Midori, or even rubber-band around a regular notebook? The exclusive design, 'Rosy Not Prosy', isn't included in any of the collections. It's a special treat for my Coterie.
If you'd like to access the Coterie and download the A4 paper and matching A5 divider page, please enter your email address below.

How to Tea-Stain Paper for Your Journal
Pour yourself a cuppa and grab a couple sheets of A5 paper. Lay them on some baking paper so you don't make a mess, or use an old tea towel or a plastic bag.
Wait for your tea to brew and fold your paper in half.
Pluck your teabag out (you may want to wait for it to cool) and smooth it across your paper. Flip over and do the same for the other side.
Layer your papers on top of each other to dry. You can plop your teabag and your mug on top for more texture.
And here's what they look like when they're dry…
If you'd prefer a more even stain, you can brew up some tea with several teabags and fill a shallow, rectangular dish. Then immerse your pages in the dish, leave them for a few minutes and then carefully pull them out and hang them on a line, or place them on a flat surface to dry.