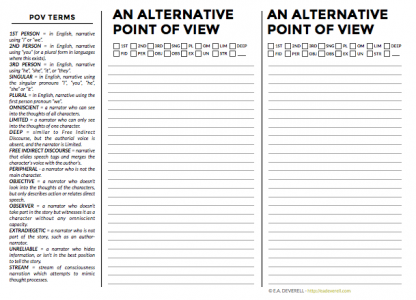 This exercise is a favourite with English teachers everywhere, but its use isn't limited to exploring POV characters. You can also use this worksheet to gain some perspective in your day-to-day life.
Here are some point of view prompts you might try…
Rewrite your day from someone else's point of view.
Rewrite your opening scene from a minor character's point of view.
Rewrite the story of how you met your best friend, from their point of view.
Take a passage from your favourite novel and transpose it into another point of view.
Try to write an omniscient account of everyone you encountered this morning.
Write a 2nd person "choose your own adventure" style account of a decision you made or are considering.
P.S. Have I missed any important POV terms? Let me know!
---
Last week's worksheet: Found Flora…