We take great pains choosing the perfect names for our characters, but what about picking the perfect pen name for ourselves?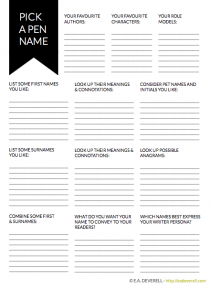 Why Publish Under a Pen Name?
There are many reasons you might want to publish under a pseudonym:
You want to keep your writing secret from people who know you "in real life".
You want to be easier to find in search results (e.g. if your real name is common or associated with another business).
You want to branch out into a different genre. – Agatha Christie wrote romances under the pen name, Mary Westmacott.
You want to reinvent yourself. – This was one of the reasons J.K. Rowling decided to write as Robert Galbraith.
You want to create a new persona. – Søren Kierkegaard wrote under dozens of pseudonyms, which he used to help him personify different points of view.
You don't feel your real name reflects your personality.
You want a name that's more memorable. Learn how to make characters (or yourself!) more memorable in How to Be the Heroine of Your Own Story. – Perhaps not his original intention, but years later I remembered reading a novel by Christopher Pike, whose real name is Kevin Christopher McFadden, and who didn't captain the USS Enterprise.
Your real name is difficult to spell or pronounce. – Ford Madox Ford was born Ford Hermann Hueffer. His publisher suggested the change, and Ezra Pound no doubt motivated him further by calling him, 'Forty Mad-dogs Hoofer'.
You feel that your real name is a disadvantage in your field or genre. – This was the reason that motivated many female writers, who thought that men were better received, to choose male pen names. George Eliot and George Sand are two famous examples.
Reinvent yourself! Rewrite your backstory! You have your permission.
How to Choose a Pseudonym
Fill in the worksheet. Whittle your list down to 2-3 favourites.
Do a Google search for your chosen pen name. Comb through the first few pages to check that there aren't any unsavoury characters you might be (accidentally) associated with. Ideally, the only results you get would be irrelevant, or old ancestry records.

Try an  exact match search by putting your name in quotation marks (i.e. "Eva Deverell")
Try a broad match search without the quotation marks. (i.e. Eva Deverell)

Use a tool like NameChk to check that the social media handles for your pen name are available. (There's no need to register for their service, just sign up each social media site yourself.) If some names are taken, someone may already be using your name.

Avoid underscores, numbers, or other fillers if possible, since they make your handle harder to remember.
Carefully consider whether you want to use your initials. They can create unnecessary confusion, especially if your initials (E.A.) are one letter off your first name (Eva)…

Try it out for a while to see how well it suits you. Sign a few pretend autographs, mock up your book cover, write yourself fan mail.
Embrace it. In time your pen name can become your true name.
Here are some Important Considerations when choosing your pen name:
If you're self-publishing on Amazon Kindle Digital Publishing, you can have only one account, however, you can enter as many different pen names under the "contributors" for your books as you wish.

A word of caution, however: if you're publishing a paperback, be sure to double check that you enter your pen name correctly. You can't change it once the book is published. (Ask me how I know…)
Take care to be consistent with entering your pen name, especially if you sometimes use your initials.

You can enter up to three pen names in Amazon Author Central (which allows you to edit your Amazon Author Page.)
BehindtheName is one of my favourite resources for finding out the name meanings. It can help you avoid a pen name with negative connotations.
P.S. Here's a great generator you can use!