The knowledge that writing fast doesn't mean writing bad, was one of the most important lessons I learned from NaNoWriMo. In fact, many famous novels and novellas were written in just a few weeks: Sir Arthur Conan Doyle's A Study in Scarlet, Matthew Lewis's The Monk, H. Rider Haggard's King Solomon's Mines, as well as many other works
Read More »
Are you in need of a pep talk right now? Or maybe your characters are, whether in a private conversation with a mentor, or on a crowded sports pitch, or on a field before battle. Or perhaps it's your readers who await encouragement, motivation, incentive, impetus, ignition…
Read More »
In this 1-hour writing workshop we create a fantasy story plot using randomly-generated elements. Why not take some time to sit back, relax, and learn how to plot a novel on one page? It's fast, FUN, and it can change the way you view stories forever!
Read More »
Are you in need of a pep talk right now? Or maybe your characters are, whether in a private conversation with a mentor, or on a crowded sports pitch, or on a field before battle. Or perhaps it's your readers who await encouragement, motivation, incentive, impetus, ignition…
Read More »
The character's home is often the main setting of the Ordinary World, and the environment in which the reader first encounters them. The people the character lives with at the beginning of the story not only help shape the character, they also help create the Stasis (beginning) state and the Resolution (end) state that define the character's development arc, and also set the story in motion.
Read More »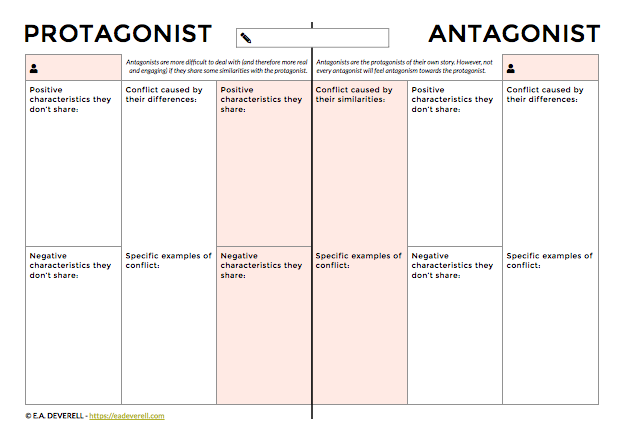 Antagonists are a simple way to introduce conflict into a story, and the quickest way to create an antagonist who will fit in with the protagonist's plot, is to consider their relationship.
Read More »
This worksheet offers a very simple formula to help you decide how your character will meet your audience. Imagine you, your character, and your reader are attending a party together. How would you introduce your character? What would you want the reader to know, and how could you communicate this information for best effect?
Read More »
If you're writing a long story or a novel, a character log is a simple solution to help you track details about your characters that you might find difficult to remember and keep consistent. You'll also find it indispensable when you come to edit!
Read More »
Press play to write along...
Your Story, On One Page...
Have FUN learning new techniques with these unique writing courses...
Join over 28,000 writers who receive weekly writing inspiration.
Join over 28,000 writers who receive weekly writing inspiration.