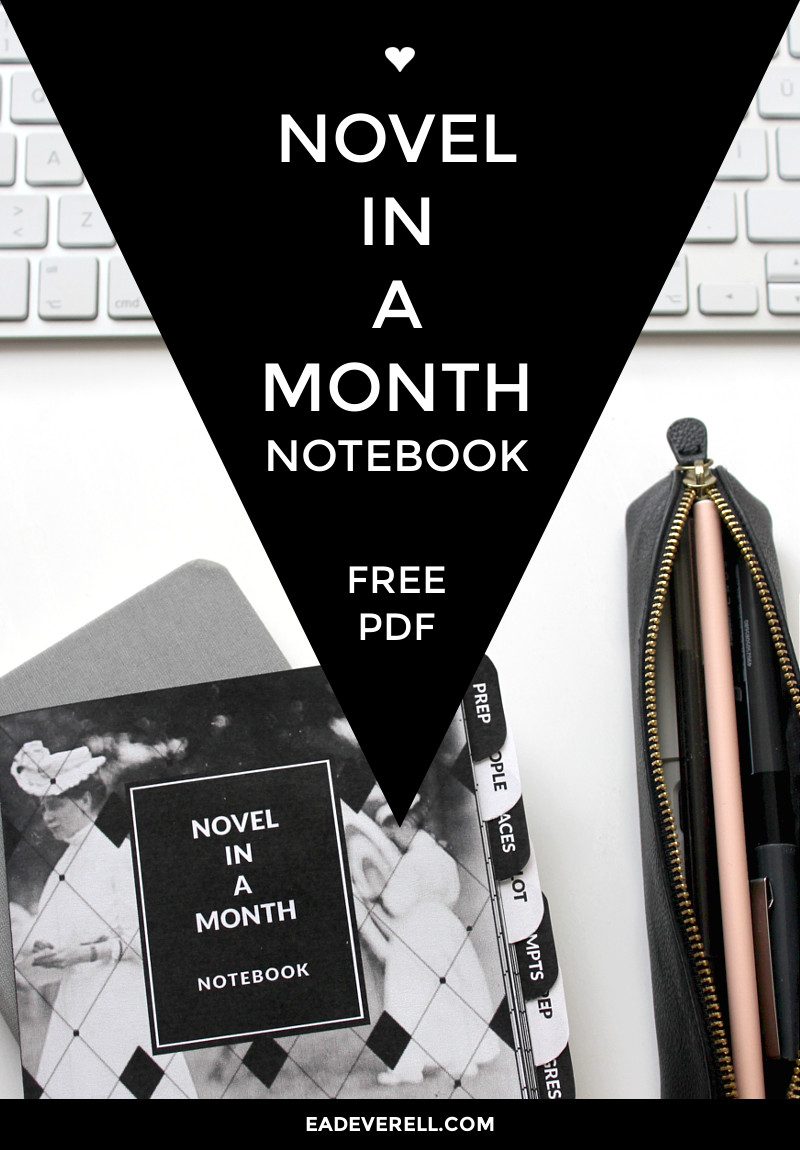 This November I will be participating in my 13th NaNoWriMo. If you ask me what I wrote in each previous year, whether I rebelled, whether I won, or where on earth my manuscripts are, I would have a hard time telling you. So when I say that it's a good idea to print out this small notebook to keep track of your crazy novelling adventures – however briefly and haphazardly – please know that I'm speaking from experience!
I did take a step in the right direction last year – I used one of my printable book covers and wrote my notes in a little booklet. This worked quite well, but I still wasn't organised enough to jot a few lines about what I thought of the final novella and how I ought to go about revising it. I'll simply have to re-read those 50,000+ words to find out.
Of course, NaNoWriMo is the highlight of our writing calendar, but you can also use this notebook month after month for Camp NaNoWriMo, and for the Monthly Writing Challenges.

What's Inside
It might seem a bit tricky at first, but the booklet will actually only assemble properly in the following order:
Prep

Month-before checklist
Word counts & goals

People

People list
Character notes

Places

Place list
World notes

Plot

Plot & story notes
Plot points list
Timeline list

Prompts

Prompts & warm-ups list
Dares & challenges list

Pep

Motivation notes
Get unstuck
Quotations
Inspiration & allusions notes
Notes of encouragement

Progress

Week 1 review
Week 2 review
Week 3 review
Week 4 review
Final review
To do list
To research list
Productivity tracker
Calendar

Printable pockets
All this fits on just 10 A4 pages printed front & back (+1 if you'd like a pocket)! Print them for your class, your friends, your writing buddies, your ML or for random strangers.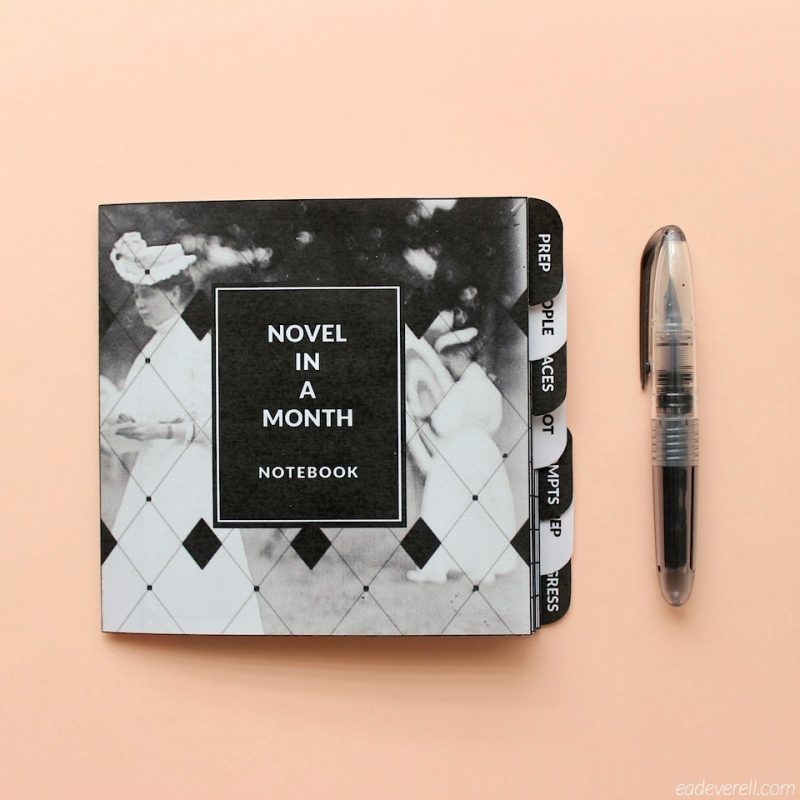 Proposed Purpose
Keep this notebook in your writing journal or planner throughout your novelling month. It'll serve several purposes without too much extra effort or planning. Complete the underlined pages in the list above before the first of the month; everything else can be filled in as you go.
During the previous month, use your notebook to…
remind you of the commitment you've made,
remind you of the need to prepare physically and psychologically,
note down any ideas that occur to you,
note down what you'll do if you get stuck,
decide on your goals for the month ahead,
plan how you'll set yourself up to write every day.
During the writing month, use your notebook to…
prompt you when you don't know how to start writing,
note where you are in your story,
track your word count progress,
track your story elements, including people, places and plot points,
reflect on your writing with weekly reviews,
collect 'notes of encouragement' from people you meet,
list the dares, sprints and word wars you complete.
At the end of the writing month, use your notebook to…
complete the final review to reflect on the month,
remind yourself of what you need to research,
remind yourself of what you need to revise,
analyse how productive you are at different times of the day,
quickly remind yourself of the story by looking over your synopsis & plot points,
remember where you saved your draft and story notes.
December's a busy month, and however optimistic and enthusiastic you feel, it's unlikely that you'll get around to editing your novel until sometime in the new year. It's usually a good idea to leave your first draft to cool off for a while anyway. The trouble is, when you come back to your novel, unless you've made good notes, it'll probably take you a while to reacquaint yourself with your characters and your world. This is a common cause of procrastination! Keeping a progress journal and taking a few minutes to do a final review will help you greatly when you return to your rough draft in a few months' time. You could also use this worksheet to help rekindle your love for your messy manuscript.
The best part of NaNoWriMo, without a doubt, is the community – the feeling of writing simultaneously with writers who have ideas as bright and batty as yours. To truly enjoy this, I suggest that you attend a local write-in or two, and spend plenty of time procrastinating on the forums. Don't miss out on the Travelling Shovel of Death, the 10K in 4h word war (my favourite), and the over-caffeinated but utterly magnificent overachievers. They will change your life. Take note!
How to Print
The booklet is 12cm x 12cm without the tabs. I designed it to be printed double-sided and assembled into a single signature, which is why even-numbered pages are upside down. It can be a bit tricky to ensure that both sides line up correctly, so please make sure you print out a test page first.
Make sure you print at 100%.
If your printer prints double-sided, you should be all set.
If you're manually flipping the pages, you'll probably need to turn your page around 180 degrees for the second side. Basically, you want to ensure that your top margin falls on the same end of the paper for both the front and the back.
You can use coloured paper if you like, and if you object to the pale pink, you can always select 'black and white' in your printer settings.
I've kept the cover quite simple so that you can print it over your own image and customise the notebook for each story. You can find some beautiful photos on Unsplash, or paintings on Wikiart. Here is the photo I used, of some Boston ladies practicing archery.
There are two pockets at the end of the PDF that you can glue to the back of the front cover and use to tuck in secret messages, coffee shop receipts, emergency literature, etc.
Prompts
Might I recommend my flash fiction prompts ebook & my previous write-alongs?
My Favourite Excerpts from Past NaNoWriMo Pep Talks
Steal these for your 'Quotations' page!
"When in doubt, make trouble for your character." – Janet Fitch
"…the essence of fiction writing is creating a character you love and, frankly, torturing him. You are both sadist and savior." – Janet Fitch
"Think about what made you fall in love with your work-in-progress in the first place." – Meg Cabot
"Deadlines mint miracles every time." – Chris Baty
"Michelangelo's Pieta was once a shapeless block, most of which ended up as dust on his studio floor." – Nancy Etchemendy (PDF)
"The difference between a novelist and someone who tinkers around with writing is this: novelists finish their books." – Nancy Etchemendy (PDF)
"You know which page of a novel is the most difficult to write? It's page 70." – Philip Pullman
"… once you've established a daily rhythm of work, you'll find it energising and sustaining in itself." – Philip Pullman
"…a bad day's work is a lot better than no day's work at all." – Philip Pullman
"Unlike most things that most people make, your novel will not be perfect." – Lemony Snicket
"…there are already plenty of novels. There is no need for a new one." – Lemony Snicket
"Think of all the things you could do with your time instead of participating in a noble and storied art form." – Lemony Snicket
"I plan to quit writing novels myself, sometime in the next hundred years." – Lemony Snicket
"Go spit in the face of our inevitable obsolescence and finish your @#$&ng novel." – John Green
"'Showing up' are the two most important words in any creative endeavor—and the very foundation of NaNoWriMo." – Grant Faulkner
"Imagine being allowed to do something you're not supposed to do." – Chuck Wendig
"It's an empty field and you've got the keys to a freaking Ferrari." – Chuck Wendig
"It's a white tablecloth and you've got ketchup, mustard, and relish." – Chuck Wendig
"Do. Or do not. There is no try." – Yoda (OK, that one isn't from NaNo)
Helpful Resources
This post is brought to you by my love of art deco and my new favourite Lana del Rey song. Writer Worksheet Wednesday will resume next week!