Here's a simple, aesthetic Notion template for writers participating in NaNoWriMo. If you enjoy writing in Notion, you're all set for the first of November. And if you prefer other writing software (Scrivener, perhaps?), you can use this template as a backup or tracking solution.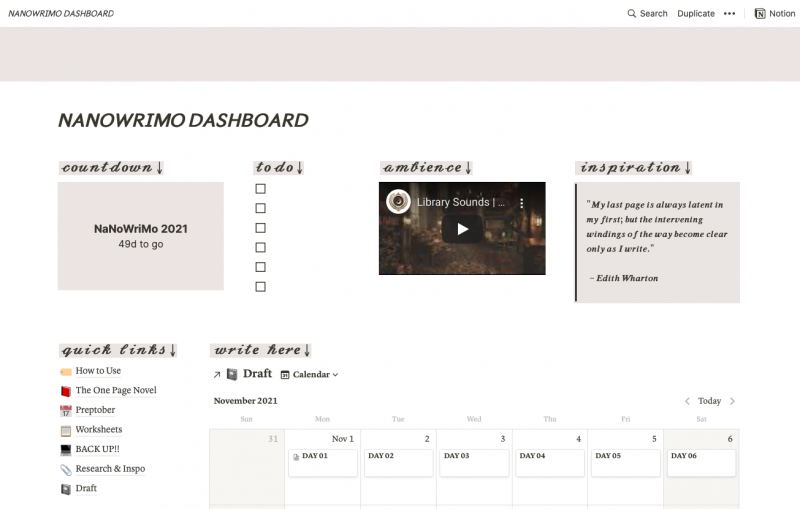 Click here to view this Notion template.
Then click "Duplicate" in the top right corner to transfer it to your own Notion workspace.
About This NaNoWriMo Template
The daily pages are all set up for you to sit down and start writing on the first of November.
The main database allows you to enter your word count, and calculates how many words you have left to write.
There's a Preptober Checklist that's populated with all of the prompts from the Preptober Calendar, and links to lots of resources.
You can also set up daily writing (or word count update) reminders that will be sent as a push notification if you have the Notion app (with notifications turned on).
The Draft database includes pointers for each story stage for those using The One Page Novel drafting method.
The dashboard gives you several views of your work-in-progress, including Calendar, Scene List, Storyboard, and a One Page Novel Kanban board.
More information can be found on the How to Use page.
I hope you find this template helpful.
Good luck with your writing, for NaNoWriMo & beyond!
More NaNoWriMo Resources