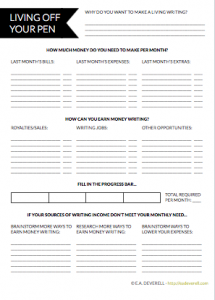 Creative Writer Worksheet – Living Off Your Pen (PDF)
Do you dream of supporting yourself with your writing? This worksheet will help you create a realistic overview of what that would entail.
Contrary to popular belief, reality doesn't destroy dreams, it feeds them. If you truly want to be a full-time writer, then taking a good hard look at the numbers (and at yourself) will motivate you.
Get real! Living off your pen is absolutely possible.
P.S. If you're a member of the Lady Writers League, you can find a helpful royalty calculator in the Library!