Join Lady Writer and her muse, Sir George, as they tackle the trials & triumphs of the writing life, and pick up a few tips and worksheets along the way.
LADY WRITER is headmistress of the Lady Writers League HQ on Alemmia where she teaches courses on plot, character, and worldbuilding, and helps out members who come to write in the study, read in the library, or socialise in the drawing room. SIR GEORGE is her muse — although he prefers the term, 'genius'.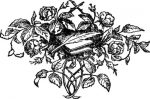 About The Lady Writers League
The Lady Writers League is a writing community based on Alemmia. You can become a member by enrolling in one of our online courses.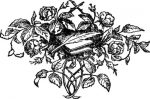 Alemmia is an idyllic Mediterranean island full of roses and fulfilled desires. It's also a novel by Eva Deverell.