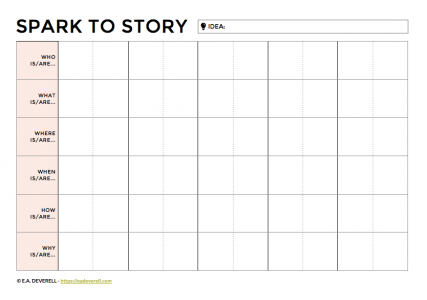 Ideas are easy! With a little practice you can come up with hundreds of them.
But sometimes it takes a little more work to unpick the details that are inherent in an idea in order to form a complete narrative.
This story worksheet and its six honest serving-men are here to help!
CLICK HERE TO DOWNLOAD THIS WORKSHEET (PDF)
Instructions
This worksheet is largely a guide to using questions to develop a story idea. The more interesting and varied the question you ask, the more useful will be the answers.
Enter your idea at the top of the worksheet.
For example: "a god returns to a planet to oversee the excavation of his ancient temples."
Use the second column to finish the question. For example:

WHO IS… the god?
WHAT IS HE… looking for?
WHERE IS HE… from?
WHEN IS HE… going to reveal the truth?
HOW IS HE… there?
WHY IS HE… in trouble?

Use the third column to brainstorm an answer to the question. For example:

A giant
A name
A technologically-advanced planet
When he's threatened with exposure
A spaceship
The other gods found something out

Use the remaining columns to pose and answer further questions, either about the third column answers, or about other aspects of the original idea. For example:

WHO IS… excavating?
WHAT IS… the temple for?
WHERE IS… the god's home planet?
WHEN… did they start excavating?
HOW IS… the god helping?
WHY… do they need help?
Once you have a worksheet full of questions and answers, you can start using them to construct your story.
You can…
Consider each question as opening a loop and each answer as closing one. What is the main story loop?
Use the questions and answers you brainstormed to create scene summaries, and use a plot formula to organise them into a story structure.
Start writing, ticking off the questions and answers as you deal with them in your narrative.
Ideation Resources
Need more ideas? Here are some articles and worksheets…
---
More Writing Worksheets…