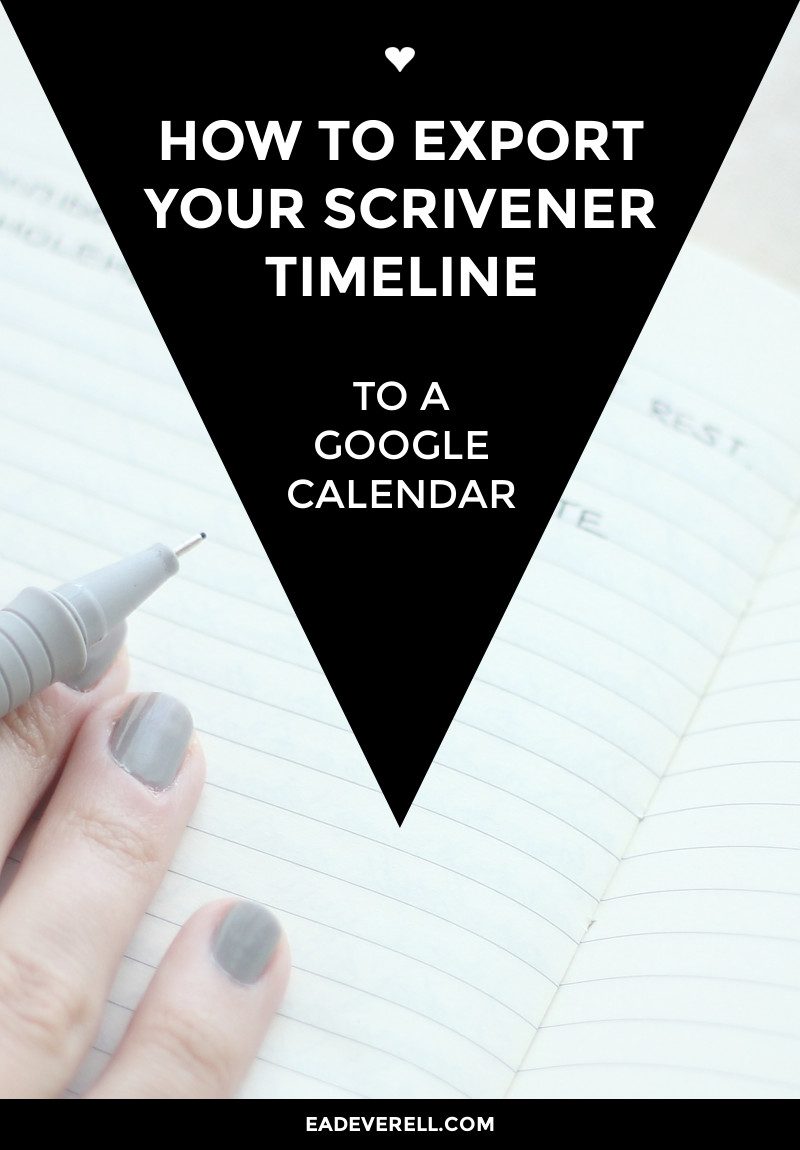 In this post, I describe how you can export a set of scenes from Scrivener into Google Calendar to get a nice overview of your timeline. You can probably import to other calendar programs, but you'll have to check their specifications for CSV files.
Note: I have the Mac version of Scrivener, so I don't know if the Windows version has quite the same functionality. Sorry!
How to Create Your Scrivener Timeline & Export It
1. Go to Project > Meta-Data Settings and add in the following meta-data fields:
Subject (required – it will be the title of the event)
Start Date (required – DD/MM/YY)
End Date (optional – DD/MM/YY)
Start Time (optional – MUST be in the same format as your Google Calendar settings: HH:MM (AM) – any 'events' that don't have a start and end time will be treated as 'All Day Events' in Google Calendar)
End Time (optional)
Description (optional – you can use this as a scene summary. It will be imported into the event's description box).
Location (optional – particularly useful if you have real-world locations because Google Calendar links to Google Maps)
Character (optional – if you want to create separate timelines for characters. You won't need to import this column from the outliner, but you can use it to search for scenes in Scrivener.)
(Here's more information on formatting CSV for Google Calendar.)
2. Fill in the meta-data fields for each of your scrivenings. You might need to open the Inspector and click the little icon at the bottom that looks like a tag. Once you've filled in all of your information, select the folder that contains all of your documents and go to View > Outline. You'll need to enable all of your custom meta-data fields in the Outliner. The easiest way is to right-click on the title of one of your columns and select the fields you want from the list that pops up. You can also access the list by going to View > Outliner Columns.
3. (optional) If you'd like to create a character-specific timeline (and assuming you filled in the 'Character' field), you can do a search for your character name:
– Select the folder that contains your documents.
– Make sure you click the magnifying glass icon next to the search box and select 'Custom Meta-Data' or any instance of that name will come up.
– Type in your character's name.
– You'll see the list of results in the Binder pane (you might need to enable it).
– Select all of the results and go to View > Outliner.
Note: You can alternatively use 'Keywords' to enter character names. This will also allow you to colour-code and display the colours in the Corkboard view.
4. Go to File > Export > Outliner Contents as CSV… Give your file a name and save it. Repeat steps 3 & 4 for any other characters you want to view in Google Calendar.
How to Import Your Scrivener Timeline into Google Calendar
5. Now it's time to import to Google Calendar. Sign in to your Google account and go to Google Calendar. Click the little arrow next to 'My Calendars' and 'Create a new calendar'. If you're going character-by-character, you'll probably want to create a separate calendar for each character.
6. Click the little arrow next to 'Other Calendars' and select, 'Import Calendar'. Choose the file you just exported from Scrivener and the calendar into which you want to import the events (the one you just created, not any shared calendars, heaven forbid).
Year View
You can enable a year view by clicking the gear icon, going to 'Labs' and enabling year view. Unfortunately, this view doesn't do anything other than highlight the current day. BUT I discovered that you can enter past years into the textbox (all the way down to the year 1). This is a quick way to switch between years, if you have a long timeline, and you can use it to easily check the days of the week (although I don't know how accurate they are). Also, it seems to insist on starting the week on a Sunday, even if you specify Monday in your settings.
Is this a useful technique?
Of course, it depends on what you need. There are a few limitations:
The export is one way, so you can't create events in Google Calendar and import them into Scrivener (AFAIK).
Year View doesn't show events.
If your world/planet has its own calendar or time-keeping system, I'm afraid you're out of luck!
But I think the advantages outweigh the limitations:
You probably already use (or know how to use) Google Calendar.
It's easy to share, if you're collaborating on a story (though possibly not as easy to edit).
It's easy to switch between day, week and month views.
It's easy to print.
You can view or hide any combination of calendars you add, which allows you to get an overview of a single character, a single location, or pretty much any information that occurs to you. This way, you can see overlaps between different timelines.
Also, I really like the idea of including end dates and end times.
Fun Hacks
I came across this blog post about importing a Google Calendar into Scrivener by simply copying its URL. This can certainly be a handy way of keeping your timeline and your writing together, though I should point out that it requires internet access and almost certainly needs you to be signed into your Google account. Still, works surprisingly well!
You can embed a Google Calendar into your page or blog post. Honestly, I don't know what use it is, since it defaults to Today, and I'm not even sure everyone can see your events unless you make the calendar public, but… you can do it! :)
How to Import Your Scrivener Timeline Into Google Spreadsheets
Follow steps 1-4 above to export your information to a CSV file. Go to Google Docs and create a new spreadsheet. Then go to File > Import… Click the 'Upload' tab and select your CSV file. Google will give you some options; you don't have to change any of them.
Is this a useful technique?
If you're savvy with spreadsheets, you might be able to do a lot more with the data that you import. For my part, I think the main advantage over what you can do in Scrivener is that you can order scenes by date and time. To do this in Scrivener, you have to resort to special formatting, since (again, AFAIK) Scrivener doesn't recognise dates and will try to order them alphabetically. Therefore, you'd want to enter dates in YYYY-MM-DD format. Unfortunately, this is different to the Google Calendar requirements I mentioned above, so you'll either have to choose which method you want to use, or add in new meta-data fields for different formats – a bit of a pain! Time is similarly tricky and needs to be entered in 24-hour format to sort correctly.
One other advantage, if you use start and end dates, and start and end times, is that you could use your spreadsheet to calculate just how long each scene lasts. Then you could probably create a chart that gives you a visual representation of the data according to any variables you choose. Really, though, I think the Google Calendar option is much easier.
Do you need a timeline?
Yes, yes you do. Whether your story follows one person through one day, or a whole family across several generations, you need to know exactly when things happen. It's very easy to make mistakes in your timeline – you can skip days of the week, have journeys take too much or too little time, end up with a woman who gestates in 4 months, etc, etc.
Timelines are even more important for multiple-POV stories, or for stories with more than one main character. Whether or not a character is "on stage", you need to know exactly where they are and what they're doing at every moment, or you will end up with woeful plot holes.
Also, timelines are a great way to gauge your story's pacing. If you're having trouble creating suspense or a sense of mystery, check your timeline and see if you can speed up or slow down certain scenes.
Do yourself, and your future self (or editor, or reader) a favour and create a timeline. It can be a simple bulleted list, if you don't have time to enter all the meta-data. Just do it.
P.S. If you need more help with plotting, you might want to download the One Page Novel Scrivener template and Google spreadsheet.