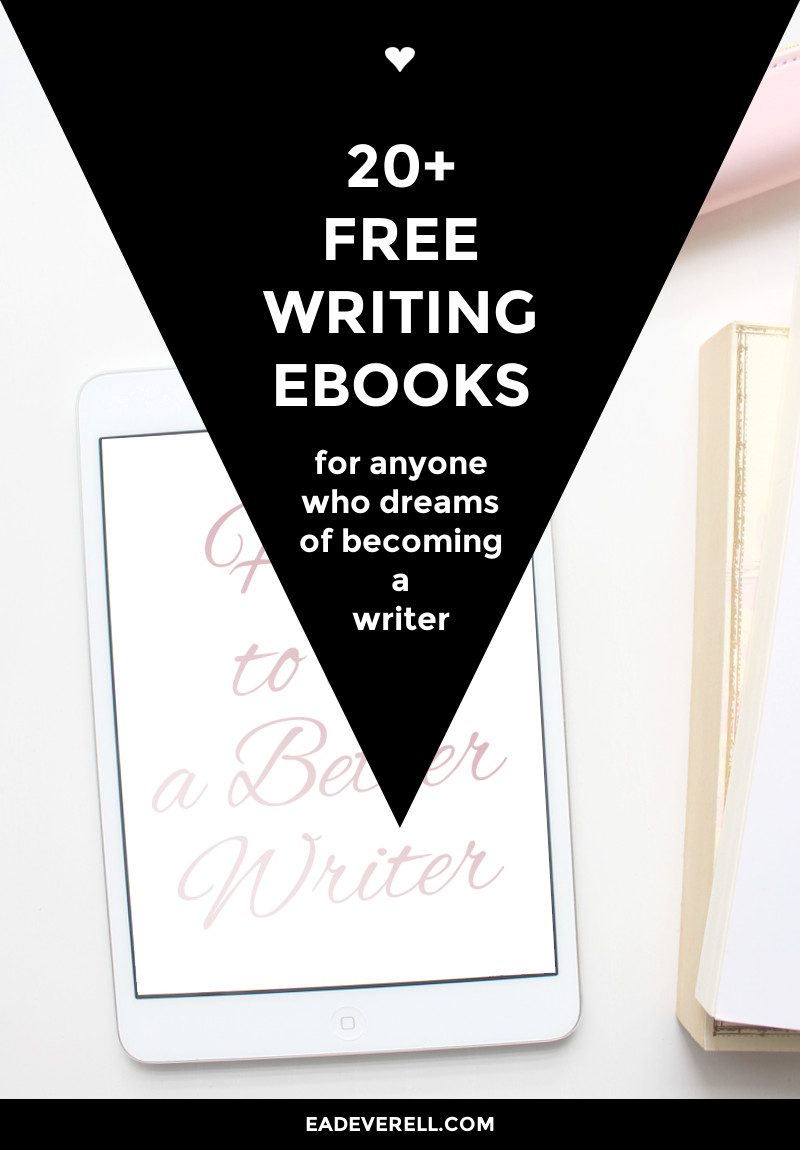 There's a wealth of valuable writing advice in this list of free writing ebooks. I'm sure that like me, you'll be amazed at just how generous these writers are, and how much enthusiasm they have to help you reach your writing goals.
I know we're all enchanted by the idea of making a living with nothing but our words, but don't forget to support your favourite writers when you can!
Free Writing Ebooks
1 | The Real Good Writer's DNA by Rachel Giesel
This beautiful ebook asks what I think is one of the most important questions for any of us to answer: what makes you a writer? Rachel explores this question with readings, exercises and prompts that I'm sure will inspire and motivate you. I say download it now before someone convinces her to charge for it! ;)
2 | The Writerologist's A-Z by Faye Kirwin
Faye's meticulous research is evident in every article she writes. In The Writerologist's A-Z, she details some fascinating psychological phenomena and gives you exercises to help you apply them to your writing. The series will probably form the go-to textbook on the subject once it's complete, so I suggest you get in early and read it while it's still free.
3 | Nail Your Novel Instant Fix: 100 tips for fascinating characters by Roz Morris
This ebook is full of fast-paced advice on creating characters. It's great to dip into, and you'll probably find yourself highlighting everything. :)
4 | How To Write A Novel The Easy Way Using The Pulp Fiction Method To Write Better Novels: Writing Skills by Jim Driver
I read this ebook (digital) cover to cover, and if you're a writer who also suffers from literary snobbery, I think you should too! There's some great advice on market research, as well as some sound advice adapted from golden-age pulp fiction writers.
5 | Pimp My Fiction: Write A Bestselling Novel By Learning Powerful Writing Techniques by Paula Wynne
This ebook does a fantastic job of synthesising the advice of some of the best books on writing. Paula's style is quick and accessible, and I highly recommend you pick this up while it's still free.
6 | The Quick Start Guide to Building Your Writer Platform by Kimberly Grabas
A great, actionable ebook that walks you through building a writer platform, step by step.
7 | The Guide to Writing Epic, Evil Villains by Kaitlin Hillerich
This ebook is full of advice for creating villains that your readers will hate, fear, and love to read!
8 | Author 2.0 Blueprint by Joanna Penn
A goldmine of information on publishing from one of the leading indie writers. Don't miss this one!
9 | Ditch the Publisher: 40 Indie Authors on Their Unique Self-Publishing Journeys by Russell Blake et al.
A fantastic collection of articles from various writers, full of advice on writing and publishing for indie authors.
10 | Reader Magnets: Build Your Author Platform and Sell more Books on Kindle by Nick Stephenson
I've been using Nick Stephenson's amazing training to grow my readership, and I can vouch that it works a treat. Make sure you also watch his free videos!
11 | Emotion Amplifiers by Angela Ackerman & Becca Puglisi
I'm so happy to be able to include an ebook from these two lovely ladies! Their Positive Trait and Negative Trait thesauri are two of my most-used reference ebooks, and the Emotion Amplifiers are a wonderful addition to the collection. Don't miss this one!
12 | More Than a Muse: how to invoke the 21st century muses by Eva Deverell
Of course I had to nestle one of my own ebooks into this list! ;) More Than A Muse is a guide to invoking the modern muses, and it even has a set of cards that you can print out and use to play inspirational writer (mind)games.
13 | Write Good or Die by Scott Nicholson et al.
Another great collection of articles by various authors, grouped under the categories, "Art", "Craft", and "Business".
14 | Crafting Unforgettable Characters: A Hands-On Introduction to Bringing Your Characters to Life by K.M. Weiland
A great offering from K.M. Weiland. This ebook has advice on naming characters, describing them, choosing their careers, and more. There's also a list of 11 "dichotomous" characters to draw inspiration from.
15 | 65 Bestselling Word Counts by Christine Frazier
Christine has broken down the word count structures of 65 (sixty. five.) bestselling novels from a dozen different genres. Word counts are wonderful tools because they give writers a concrete goal to work towards, but this ebook is a fascinating study in itself. Be sure to pick it up!
[bctt tweet="20+ free writing ebooks for anyone who dreams of becoming a writer. #amwriting" via="no"]
16 | NaNo for the New and the Insane by Lazette Gifford
Lazette Gifford's ebook has been the classic NaNoWriMo instruction manual for as long as I can remember. It's full of solid writing advice, whether you're participating in NaNo or no.
17 | 100+ Freelance Writing Questions Answered by Carol Tice
Carol Tice has created an ebook of the questions she was asked most often by writers. If you're wondering what it would take to making a living as a freelance writer, this is a great resource to read.
18 | Editors Unleashed: Magazine editors growl about their writer peeves by Linda Formichelli
Linda Formichelli interviewed ten editors of national and trade magazines about what writers do that ticks them off.
19 | 14 Prompts: Unusual Prompts for Surprising Creativity by Joe Bunting
If you're a fan of Natalie Goldberg's Writing Down the Bones, I think you'll really like this ebook. It offers only 14 prompts, but they're presented in a wonderfully simple yet thought-provoking way.
20 | How to Write Fiction by Elicia Hyder
This is a quick read with lots of top tips and good examples. I think it's aimed specifically at younger writers, which is probably why it's done so well on Wattpad.
21 | On Writing by Paolo Coelho
I've long been a fan of Paolo Coelho's novels, and I love how ready he is to share his wisdom online. This is a quick read, and more motivational than practical, but I love it!
I hope you enjoyed this list. If I've missed any ebooks, if any of the links aren't working, or if any of the ebooks are no longer free, please shoot me a quick tweet. Thank you!
Now go write, right now…