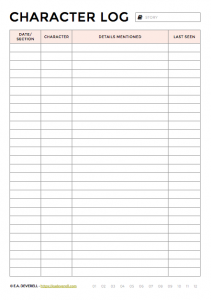 When writing long stories, novels and series, it's easy to lose track of characters and introduce inconsistencies, discrepancies, contradictions, and even plot holes. For general plot action I would recommend creating a story spreadsheet, and for keeping track of characters' minds, you might want to log who knows what when, but for remembering things like physical descriptors, relationships, and mentions of likes and dislikes, a character log is a really simple solution.
CLICK HERE TO DOWNLOAD THIS WORKSHEET (PDF)
How to Keep a Character Log
Before or after each writing session, read through the last section you wrote. When you come across mention of a character that includes details that you would like to track, make an entry in your log…
In the first column, note down the date and/or the story section where the character is mentioned.
In the second column, note down the character's name.
In the third column, write any details that you think are important to remember. If your manuscript includes a long description with many particulars, you may want to note down a general category – such as "family", "appearance", "clothing", or "favourite food" – instead.
In the final column, note down the last place the character appeared. Depending on your requirements, this could be the last location in the story, or the last chapter/paragraph in your manuscript. If the character was headed somewhere, mention that too. For example: "last seen… leaving for school."
Tips
The character log isn't for every mention of a character. Rather, it's to help remember those small details that aren't vital to the plot, but that need to stay consistent throughout.
You may want to colour code the characters to help you spot relevant entries in the log. You could also colour code mentions of a specific category.
When you're beginning a writing session, quickly check the last log entry for each character to see where you left them. This will help you avoid unintentional teleportations, and can ease your way back into writing the story.
You'll probably need more than one page for longer stories. Use the numbers at the bottom of the worksheet to mark the order in which you fill out each copy.
I recommend logging repeat mentions because…

It can show you if you're being too repetitive or "over-informative".
It can help you emphasise certain points or characteristics.
It can help you when you come to edit, especially if you decide to change or omit a detail.

When it's time to edit your story, go through each entry in your character log for each character, and check that all of the details are consistent and cohesive.
---
I hope you found this worksheet helpful! Don't forget to check the worksheet index for over 150 writing worksheets…