I love my A5 leather folio from Galen Leather! It's in the Crazy Horse Forest Green colour (although it's also available in tan, navy, brown, and grey). The outside and the inner pockets are made of leather, the lining is of a green felt that reminds me of a snooker table, and the closure is a sturdy YKK zipper.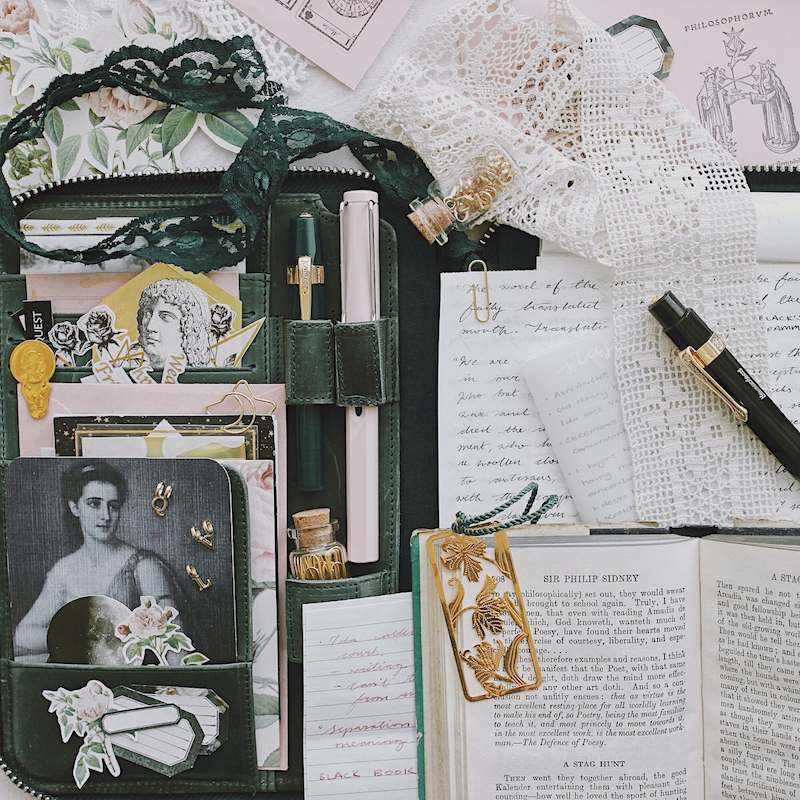 A separate pen holder slips into the front of the secretarial flap on the left. You can also use the pen holder in other places, such as tucked into the elastic of a traveler's notebook, or in a pencil case.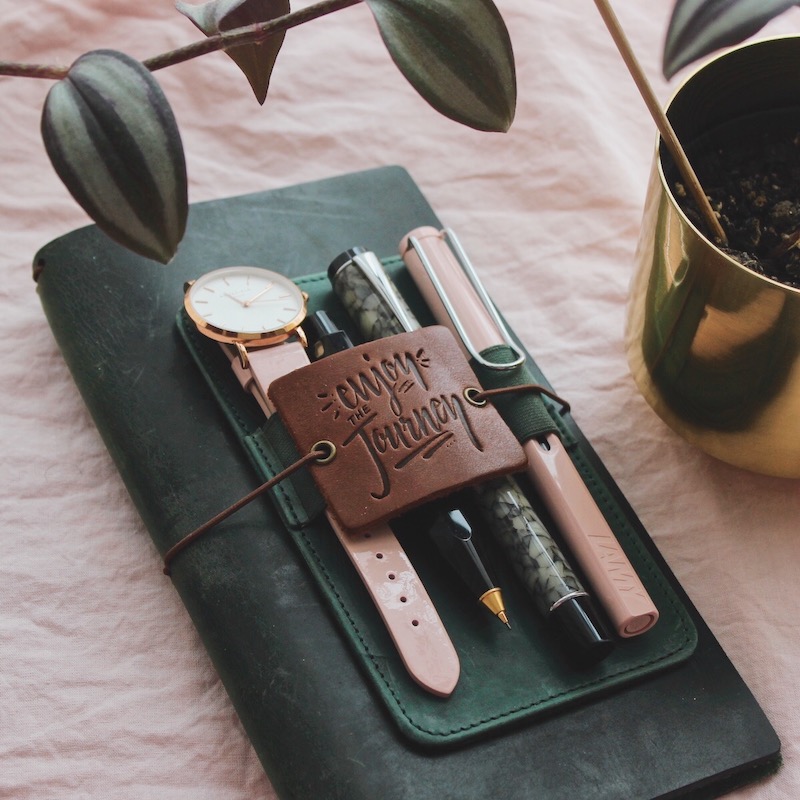 One of my favourite things about this case is that it takes both notebooks and notepads. Galen Leather sells several Tomoe River notebooks that are a treat for fountain pen lovers. I also love using Rhodia dotpads, and Original Crown Mill writing paper (in pink, of course).
Note: The items in the pockets can make it difficult to write on the left-hand page of a notebook, so using a notepad or a hardback notebook is most convenient.
The folio can also hold smaller notebooks, such as regular and passport-sized traveler's notebook inserts.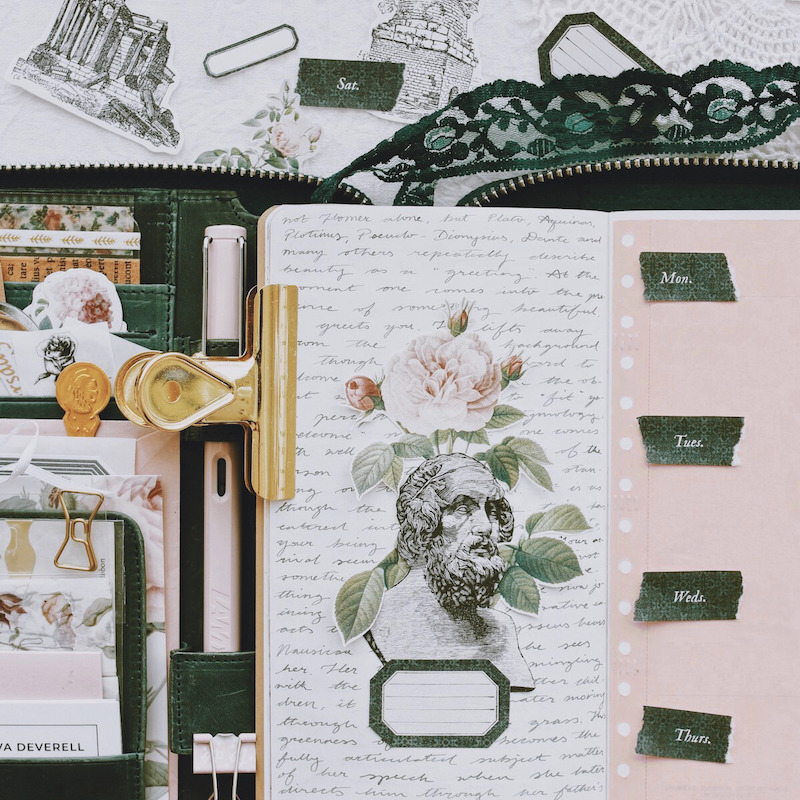 All Galen Leather items are crafted by hand to order, so lead times can be 2-4 weeks. The workmanship on these leather goods is truly beautiful, and with some care I think they will last for generations.
I'm not affiliated with the company, but if you're thinking of ordering, you can use my referral link for 5% off your first purchase.
A5 Leather Folio Setup Ideas
Here are a few setup ideas. You won't be able to fit all of these supplies in at once; this is quite a slender folio! Pick and choose what's essential.
For Reading / Studying
Book
Small notebook
Pencil
Highlighter
Page flags
Bookmark
Sticky notes
Earphones
I removed the key ring and tied on some lace to use as a bookmark!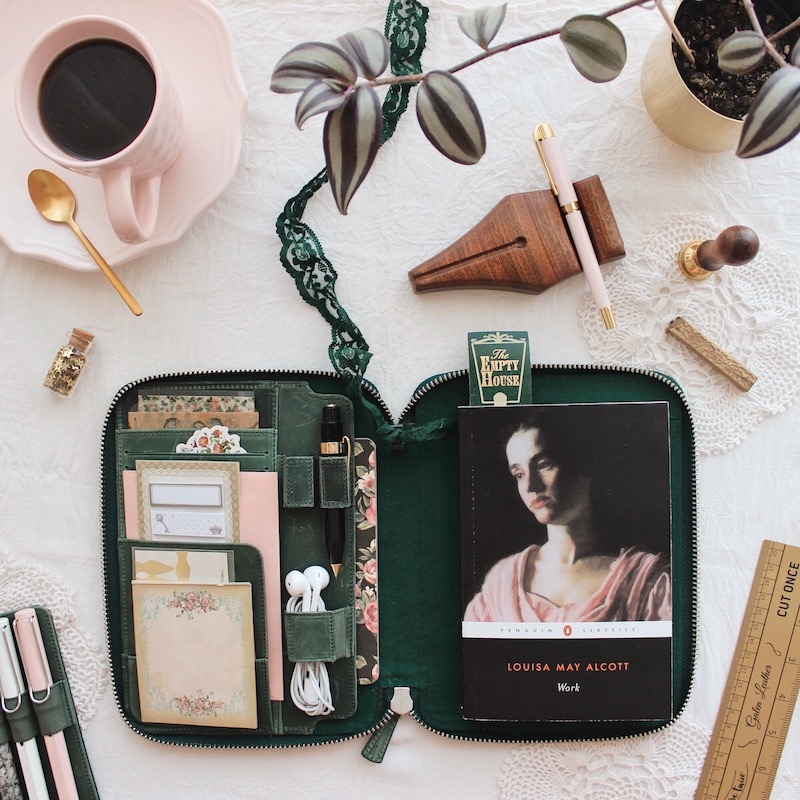 For Sketching / Colouring
This folio is best for dry media. It's too nice to get wet or paint-spattered. That being said, here are some ideas of things you could carry in it if you were so inclined:
Colouring book or sketchbook
Pencils
Eraser
Blending pen
Water brush
Tissues
iPad/tablet
Paper watercolours
Tracing paper
Spray mister (this Derwent one, for example)
A flat palette
Tubes of paint
For Journalling
Washi samples
Small bottles of embellishments
A glue roller
Stickers
A stick of wax & seal (if you unscrew the seal from the handle, your folio will be less bulky. You might also want to include a small lighter, or some matches.)
Scissors
Ruler
Craft knife
A small stamp block
Unmounted stamps
A small ink-pad or markers for inking
---
You can find more photos of this A5 folio in use on my Instagram.