What is the Fool's Journey? The 'Fool's Journey' is the term coined by Eden Gray to describe the story of the Major Arcana of the Tarot. Unfortunately, Gray's own account of the journey is merely a rushed appendix to A Complete Guide to the Tarot, and in the absence of an "authoritative" version (if it isn't a fool's journey
Read More »
A mystery is an easy way to add interest to an otherwise simple story. These mystery writing prompts will make you curious to know more. And your readers too! What Creates Mystery? A few elements are vital to keeping a mystery story moving forward: Questions – A single question can be enough to sow doubt
Read More »
In this 1-hour writing workshop we create a fantasy story plot using randomly-generated elements. Why not take some time to sit back, relax, and learn how to plot a novel on one page? It's fast, FUN, and it can change the way you view stories forever!
Read More »
A mystery is an easy way to add interest to an otherwise simple story. These mystery writing prompts will make you curious to know more. And your readers too! What Creates Mystery? A few elements are vital to keeping a mystery story moving forward: Questions – A single question can be enough to sow doubt
Read More »
A character arc is a simple way to visualise your character's progress through the story, whether it's a binary comparison of their beginning and end states, or a point-by-point graph of their emotional ups and downs… Last week we studied how characters change, and this week's worksheet offers a simple method for visualising that change.
Read More »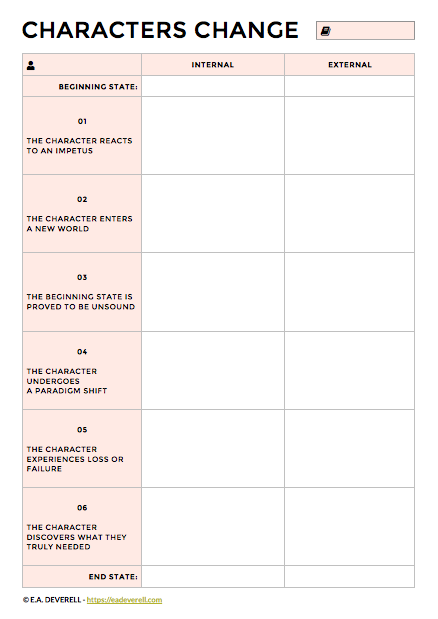 Most stories describe a character's transformation from one state to another, and over time, storytellers have developed plot formulas to help them understand how characters change and how this change can be related to an audience.
In general these formulas guide the character through the following steps…
Read More »
It's been a long time since I've listened to any podcasts, but when I received an email announcing that my favourite quarterly had started up the Slightly Foxed Podcast, I decided it was time for old habits and new reads. If you're unfamiliar with Slightly Foxed, it's a very down-to-earth publication that is all about the
Read More »
The underworld is perhaps the most important motif in mythology and literature – tied up with ideas about life, the afterlife, belief, culture, storytelling, and the psyche, it's the setting of humanity's reckoning with the ephemeral nature of mortality.
As writers, we can use the motif of the underworld in two aspects:
The underworld as world of adventure
The underworld as world of the dead
Read More »
Press play to write along...
Your Story, On One Page...
Have FUN learning new techniques with these unique writing courses...
Join over 32,000 writers who receive weekly writing inspiration.
Join over 32,000 writers who receive weekly writing inspiration.